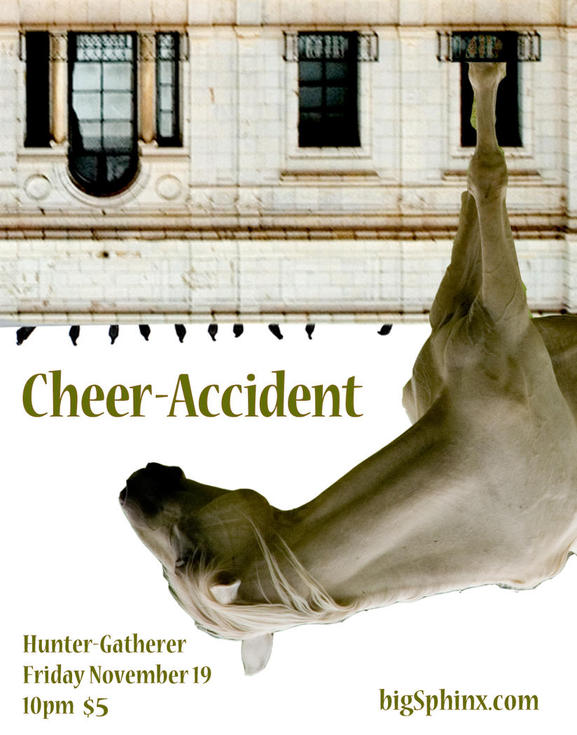 Press Release
November 5, 2010


Cheer-Accident @ Hunter-Gatherer, November 19

bigSphinx Productions is pleased to announce the return of Cuneiform recording artists CHEER-ACCIDENT on Friday, November 19. CHEER-ACCIDENT is always unpredictable, always entertaining, but darned hard to pigeonhole. Progressive in scope, they alternate between smart math rock, utter nonsense, and a weighty dose of Zappa-esque rhythmic tomfoolery.

Founded and led by drummer/singer Thymme Jones, CHEER-ACCIDENT also features longtime guitarist Jeff Libersher and bassist Alex Perkolup (formerly of The Flying Luttenbachers). As citizens of Chicago, they have also been known to associate with such characters as cellist Fred Lomberg-Holm, trombonist Jeb Bishop, and drummer Tim Daisy.

Even more incriminating is their recent split 7-inch with Sleepytime Gorilla Museum, The Ex, and Voodoo Muzak.

CHEER-ACCIDENT is difficult to dislike, and if given the chance, they seem happy to let you take whatever you like from their challenging oeuvre.

The music will commence at 10:00 PM, although of course Hunter-Gatherer will be open all evening for your fine dining experience. Tickets will be sold at the door for a mere $5. As always, attendance is mandatory. This concert will take place at Hunter-Gatherer, which is situated at 900 Main Street in Columbia.

Further information can be obtained on the World Wide Web at bigsphinx.com, cheer-accident.com, and myspace.com/cheeraccident; or by using a telephone to dial (803) 957-5565.



---

bigSphinx Productions is an informal organization dedicated to the presentation of challenging and unusual music in the Midlands area. Sometimes we make it ourselves; sometimes we get other people to make it. Concerts we have presented in the past include Sleepytime Gorilla Museum, Ahleuchatistas, 2 Foot Yard, and The Tiptons Saxophone Quartet.