Conundrum Music Hall wishes to thank all of the following people for their amazing contributions of unpaid labor, advice, and encouragement:
Ms. Conundrum, AKA my wife Susan Fraser, for devoting way too many weekends, as well as the first two weeks of her summer vacation, to this project. Pressure washing the building; painting the beams, walls, and floors with a power sprayer as well as brushes; wrapping all that damned stinky acoustic board in burlap and attaching it all to the ceiling and walls, even whilst suffering from an amputated finger tip (which does NOT fall under Workman's Comp... it happened at home). And of course her unbounded general support ever since I dreamed up this idea, and putting up with me prattling and whining about everything for god nose how long.

Barry Sparks, for several days of hard labor in designing, obtaining, and installing the stage lights. Also for helping move all the pallets and stuff into a neat pile in the side yard on a hot day.

Brett Bursey & Becci Robbins, for bartending on the night of the show; and for donating the Jackson Browne Memorial Stage to the venue and installing it for me; and for arranging for the Moving of the Mulch; and for plenty of other things I can't remember right now.

Henry Thomas, for responding within an hour to my plea for help in weed-eating and mowing the surrounding property so that the city wouldn't shut me down before we even started, like they were threatening. He even went out and got the weed-eater repaired for me. Tom Hall also came over and mowed a bunch of those weeds on that way too hot day.

Alex Davis, for mounting the JBL's on the wall (even though we'e probably going to move them now), and for lots of help in putting up the acoustic board in the ceiling. Also Alex's friends Zach and Cullen, for screwing things up (onto the ceiling), as well as into the wall.

Kathy Murray, for assembling a whole bunch of those acoustic wall panels; and for cleaning the plate glass windows; and for loaning 2 chairs and a table for the Conundrum Patio.

Jeff Francis, for designing the PA system and acoustic treatments for the room, and then bringing his son Matt with him to connect it all and test it out on the day of the show.

Rosie Kemper, for going far beyond the call of duty in designing the window and door curtains, ordering the fabric and hardware, sewing 24/7 once the fabric finally arrived, and then installing it all at the last minute, even as the band was loading in for the show.

Jonathan Dorrell and Steve Hait, for general assistance in cleaning up the building and property on several occasions.

Ben van Wyke & Ana Vicente, for attaching the wall panels to the wall, last-minute sweeping and mopping, and concert photography.

Mathew John, for excellent graphic design prowess and doorman abilities.

Wim Roefs, for moral support and advice, and for being whatever the opposite of a burglar is.

Ross Taylor, for being a fine sounding board and idea bouncer.

John Fitz Rogers, Steve Gibson, Richard Burts, Tom Ledbetter, Patrick Wall, Dan Cook, Travis Maynard, and Kay Thigpen, for moral support and business advice.

Steve & Liz (of Grey Egg), and Mike Jones, for helping me find a sound engineer at the last minute.

Kevin Green, for talking a lot, and helping get the word out.

ATO Ltd., for giving me a free mango-flavored urinal filter.
And everybody else who offered assistance, encouragement and enthusiasm all along the way. Sincere apologies to anyone who I've left out here! &nbsp&nbsp By golly I have a lot of fine friends.
- Tom Law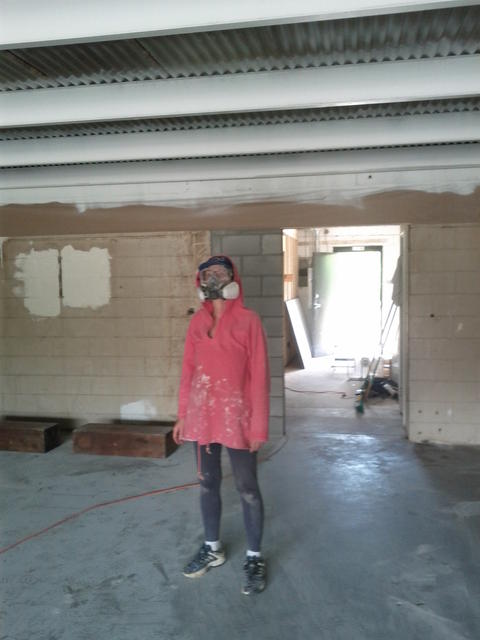 ms. conundrum